©1998-2021 by



JoystickUtilizer
Introduction
You have some nice BeOS games and a (BeOS supported) joystick or joypad, but the games can only be controlled with the keyboard? Here is the solution! JoystickUtilizer reads the joystick port and sends keyboard events to your games - or applications. It's even fun to write text with the joystick! ;-)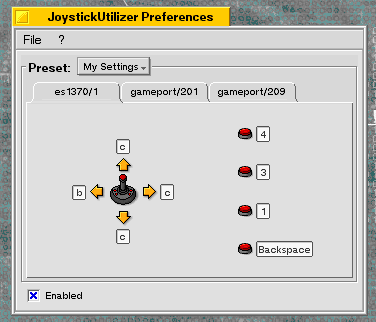 License
JoystickUtilizer is freeware. You may share JoystickUtilizer with as many people as you like, as long as the program is distributed with all parts, especially this documentation, intact. JoystickUtilizer may not be sold.

All graphics, especially the icon or brands are copyrighted by the author and may not be used in any form without the author's consent.
History
April 25, 2002: The obligatory bug fix update: The presets are now correctly saved, the settings are loaded when the input_server add-on is started.
April 22, 2002: Release 2.0:

Now supports several joysticks simultaneously.
If you press a button it is highlighted in the preferences panel
New layout of the preferences program

March 28, 2002: Service pack 1 ;-) Removed a stupid bug.
March 25, 2002: Initial release.
Download