©1998-2021 by



PecoRename
Introduction
PecoRename is a utility which allows you to rename many files according to a preset pattern. It lets you rename your files in many different ways: Add an extension, Number your files in order, Search and replace, and much more... All with an easy to use interface and a realtime preview function.
Additionally there is now the Tracker add-on, which allows you to start PecoRename directly out of the Tracker with the currently selected files.
News / Updates
June 25, 2001: What a surprise: Another update! On the one hand the settings are now saved and restored at the next start. On the other hand you can now see a preview while you are typing in the text field.
December 19, 2000: The Tracker add-on is now also available for PPC.
December 16, 2000: PowerPC version added.
November 08, 2000: After a long waiting period finally release 1.4 - A new function in the menu allows to create a executable script. This will rename the files as previously configured. Very handy, if you have to rename the same files repeatedly!
There is now also an Italian version! Many thanks to Gian Davide!
June 05, 2000: Release 1.3 - A new renaming mode allows you to remove letters from the file names.
Mai 09, 2000: As the third language French was added - many thanks to Stephane!
Mai 06, 2000: Release 1.2 - New renaming function: Uppercase/lowercase.
Mai 01, 2000: Added the Tracker add-on.
April 23, 2000: Release 1.1.1 - No day without an update ;-) The insert/replace function now supports umlauts and special characters!
April 22, 2000: Release 1.1 - You can now remove files from the list. I also removed a minor bug.
April 21, 2000: Because of problems with my internet provider the upload was delayed. :-(
April 20, 2000: I've released the English version! Special thanks to Sci for revising the translation!
April 20, 2000: I (hope that I have) found the little bug that made PecoRename crash sometimes when quiting.
April 17, 2000: The German version is completed! For the English version only the documentation is missing.
Download
Screenshot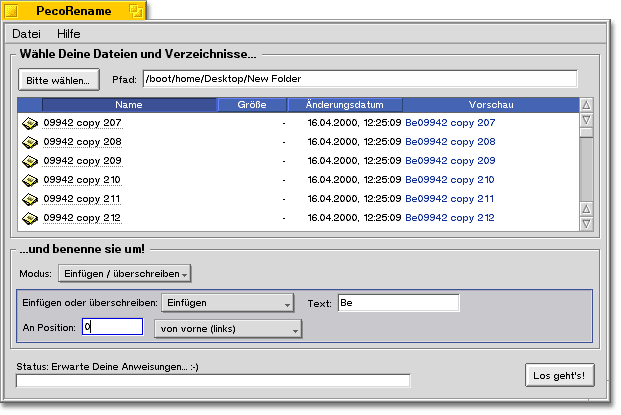 This is a screenshot of the German version, but the English version looks similar!