©1998-2021 by



PecoBeat
Introduction
PecoBeat is a drum computer or drum sequencer, a program with that you can create beat compositions based on patterns.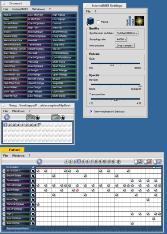 PecoBeat will be very easy to use (because of it's specialization), it supports drag&drop throughout the program, live editing while playing and pleases with a nice user interface (in my opinion).
PecoBeat is based on MIDI and uses (in the beginning) the internal MIDI synthesizer of the BeOS. Since it is designed for the MidiKit 2, there will later come an extended version for external MIDI instruments (even for devices which don't support the GM standard).
It will be connected to the internal MIDI-Synthesizer via InternalMIDI, which I have written not at last for that purpose.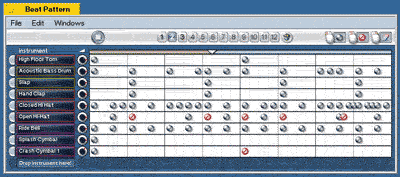 Screenshot from May 28, 2001 - Please click on the picture to enlarge it!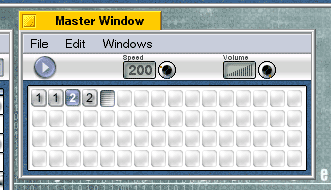 This screenshot shows the Master Window (June 28, 2001)

News / Updates
November 16, 2002: Version 1.0a resolves a little bug which could cause to crash the whole BeOS. Release of the source code.
July 31, 2001: Finally: The Final Release 1.0
July 22, 2001: Some bugfixes, new features. This should be the last pre-release!
July 19, 2001 / July 20, 2001: Small updates

July 17, 2001: Get the BETA!

June 28, 2001: The next point of the todo-list is done: The Master Window. The expected date for the first public (pre) release: in 2 weeks!

May 28, 2001: The pattern editor is finished.
March 4, 2001: First (public) infos, first screenshot
November 2000: Beginning of the programming
What's next?
At the moment it's not very likely that I will update PecoBeat very soon. On the one hand the feedback was simply to few. On the other side I want to wait and see, how the future will look for the OpenBeOS (however it will be called!).
Download
x86 Version [388 kB] - PPC Version [359 kB] - Source Code [156 kB]